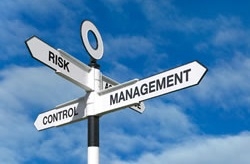 Business Risk Management
Activities undertaken by an organization to control and minimize threats to the continuing efficiency, profitability, and success of its operations. The process of risk management includes the identification and analysis of risks to which the organization is exposed, the assessment of potential impacts on the business, and deciding what action can be taken to eliminate or reduce risk and deal with the impact of unpredictable events causing loss or damage.
Mis
sion Statement
It Is Our Mission
To Protect Our Clients From Financial Loss, Lawsuits
and Fines Through Proper Risk Management
& Human Resource Administration
While Keeping Them Positioned
In The Most Cost Effective Programs
With Stable Quality Companies
Our Services Only Begin With The Items Below:
Commercial Insurance Administration


Human Resource Administration & Compliance

Employee Benefit Administration

Employee Handbooks


Risk Management

Safety Services

Registered Investment Advisor

Retirement Planning

Estate Planning

Business Continuation Planning


Long Term Care Planning


Prompt & Courteous Service

Our services can be tailored to each client's specific needs to help relieve management of the tedious time consuming tasks that accompany Risk Management & Human Resource Administration.

We believe that "One Size" does not fit all and have structured our services to be selectively coordinated and merged with existing in house functions. As the needs of outsourcing change, so do our services to provide as much or as little outsourced help as requested.
American Owned & Operated,
United States Veteran & Minority Owned